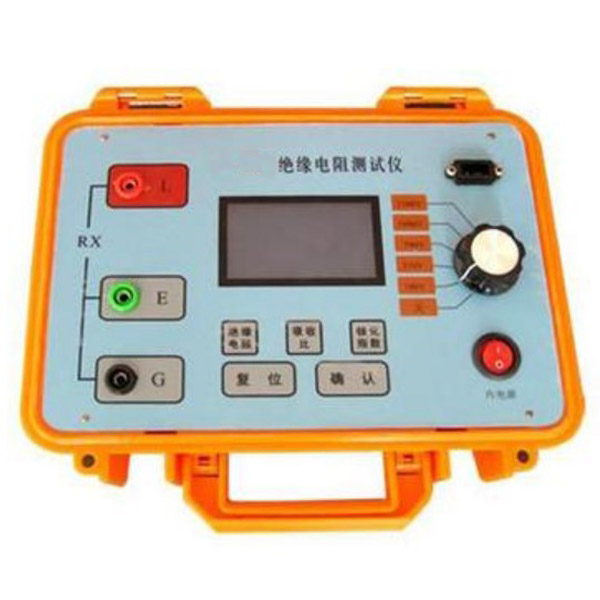 HIRT Insulation Resistance Tester Brief Introduction:
Used for measuring the insulation resistance of transformers, motors, cables, reactors, generators and other equipment and components, and real-time indicate absorption ratio, polarization index.
Product Feature:
(1) High output power, strong load capacity& anti-interference ability.
(2) The instrument needn't manpower, battery-powered, range can be automatically converted; touch buttons voltage selection and LCD display, making measurement very convenient and rapid.
(3) Battery-powered, under-voltage indication.
Technical Parameters:
Service condition
Ambient temperature:0℃ ~ +45℃
Relative humidity:≤85%RH
Demension
220mm×200mm×105mm
Weight
<1.4Kg
Power application Range, power loss
DC: (6 Ni-Cd 5# rechargeable battery) External AC 220V power supply for charging.
Power loss: Static power loss≤160mW; Maximum power loss≤2.5W
Output voltage rating, measuring range, resolution, error

Output voltage rating

500V,1000V
2000V,2500V

5000V, 10000V

Measuring range

0~19999MΩ

Relative error

≤±4%±1d

Resolution

0.01MΩ,1MΩ 1.0MΩ,10.0MΩ

The maximum output voltage Load capacity and short circuit current

| | |
| --- | --- |
| Voltage/Load | 2500V/20MΩ |
| Voltage drop | about10% |
| short circuit current | >1.6mA |